Plate making and image prep
PLATE MAKING IN FLEXOGRAPHY USES RELIEF PLATES UNIQUE TO EACH LABEL.
However, prior to this is a rigorous set of procedures used to manipulate and generate images based on color processes. Plate-making utilizes a solid or liquid photopolymer that is exposed to light through a negative. Afterward, the desired areas left unexposed are then washed away with solvent or water to produce the plate relief and floor height, creating the plate thickness as seen below.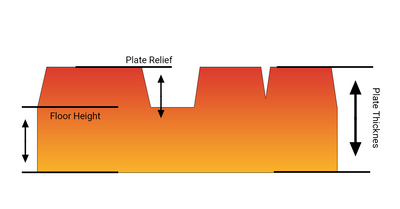 IMAGE PREPARATION
Image preparation begins with electronically produced art supplied by the customer, or we can create your art by providing you with two free hours of time from our professional art department. Images are captured for printing by a camera, scanner, or computer. When art is scanned or digitally captured, the computer, equipped with special software, assembles the image. A simple proof is prepared to check for position and accuracy. When color is involved, a digital color proof is submitted to the customer for approval. Upon approval, our professional art department then prepares the image for plating on our NX System.
To start your label printing services, feel free to reach out to us at Impression Label today.
Learn More About Flexography Printing
If you'd like to learn more about what makes flexography printing a superior printing process, the team at Impression Label is here to help. Contact our printing company today to inquire about how flexography printing can produce the printing results you're looking for.